We Can Handle All the Prep Work
---
We offer a variety of excavation services, including preparing your land for building, landscaping preparation, and digging irrigation and drainage trenches. We can dig, grade, and level your land to make it ready for foundations, roads, water features, pools, sidewalks, pipes, and landscaping. We also factor long-term efficiency in our excavation services, planning for storm water flow, proper drainage direction, and the possibility of future barriers such as retaining walls and sidewalks. Contact us and let's discuss how we can assist in your project with our excavation services.
---
Our residential excavation services are designed to transform your vision into reality. Whether you are planning to build a new home, install a pool, or revamp your garden, we have the skills and equipment necessary for every step of the process. Our services include:
Land Clearing and Grading: We remove unwanted vegetation, debris, and level your land, ensuring a stable and suitable foundation for construction and landscaping.
Trenching for Utilities and Irrigation: We expertly dig trenches for installing essential utilities, including water, gas, electricity, and irrigation systems, ensuring your home is well-connected and efficiently watered.
Drainage and Stormwater Management: To prevent water damage and erosion, we design and implement effective drainage solutions, keeping your property safe and dry.
Site Preparation for Landscaping: We prepare your land for various landscaping elements, from gardens to outdoor living spaces, ensuring a perfect canvas for your landscaping dreams.
---
Our commercial excavation services cater to businesses and large-scale projects. We understand the complexities and demands of commercial development and offer a range of services, including:
Large-Scale Land Grading and Leveling: We handle extensive land clearing, grading, and leveling for commercial buildings, ensuring a solid foundation for construction.
Excavation for Infrastructure: We specialize in excavating for roads, parking lots, and other infrastructure needs, prioritizing efficiency and safety.
Complex Drainage Systems and Water Management: Our team designs and implements large-scale drainage systems, crucial for managing stormwater in commercial settings.
Preparation for Public Spaces: We prepare land for public areas, including parks, sidewalks, and recreational facilities, enhancing the community and environment.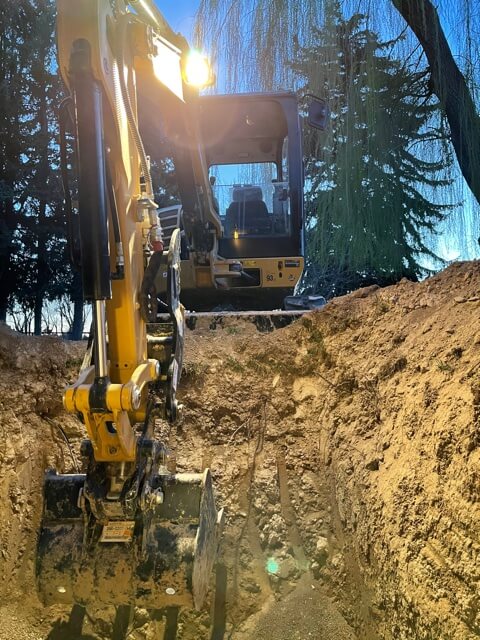 ---
Call Us for your excavation project
---
At Rustic Ridge Landscape and Irrigation, we don't just excavate; we plan for the future. Our services include strategic planning for stormwater flow, efficient drainage direction, and incorporating potential future developments such as retaining walls and sidewalks. This foresight ensures that our excavation work not only meets your current needs but also accommodates future changes and expansions, saving time and resources in the long run.
Entrust your excavation needs to Rustic Ridge Landscape and Irrigation, where we combine expertise, precision, and forward-thinking to deliver exceptional results. Whether it's a residential dream or a commercial venture in Twin Falls, ID, we are equipped and ready to tackle any excavation challenge. Contact us today to discuss your project and discover how our dedicated team can lay the groundwork for your success. Let's turn your vision into a tangible reality with our comprehensive excavation services.
---
---